Prevent Workplace
bullying and harassment
Your Safe Hub is a simple, safe and secure grievance management system for companies of all sizes (and maturity)
Why you need Your Safe Hub now more than ever
In more than 80% of cases, your employees know when there are troubles in your organization but are afraid to talk. Your Safe Hub gives them the freedom to talk without fear of persecution.
Avoid harassment lawsuits
Most employees want a happy and safe workplace. Employers who fail to provide that end up wasting an insane amount of money and time over lawsuits because they could not pay attention to the problems at the workplace.
Find Issues before they become problems
Your employees face problems related to workplace culture, harassment, stress or uncertainty. They are afraid to talk to you.
Boost employee morale, prevent turnover
Most employees who do not feel safe or happy in the workplace move to organizations with better policies and open environment. Don't let your workspace suffer from the same problems.
Encourage Questions for Senior Management
Employees are afraid to ask questions or suggest changed to senior management resulting in rumors and fear mongering.
Get valuable suggestions from your employees
Most employees have genuine thoughts and ideas that make the workplace a lot better or provide you with additional revenue sources. Get them to talk to you anonymously.
Open a third party secure channel for your employees to communicate with you
Over 80% of employees are afraid to talk to senior management even if they face daily difficulties in their work. Your Safe Hub gives them a perfect tool to approach you without fear.
How it Works
Anonymous Complaint Filed
A person anonymously files a complaint specifying details. Personal details are not specified and the system generates a per complaint access code.
Complaint Assigned by Automated Rules
A reviewer is assigned based on configured rules. Sensitive complaints are handled separately. You are notified via email.
Anonymously Follow up and Resolve
You respond to the original complaint and communicate with the person without disclosing either identity. All communication is kept strictly confidential.
Features
Your Personal Account
Get your own personal subdomain

Private database for your account with complete security and protection controls

All uploaded files are stored separately and are access controlled
Robust Grievence Management
Your private case management

Case priorities, categories and flagged cases

Powerful filtering options

Case status automatically adjusts based on response

Indelible records with complete case history that cannot be modified or deleted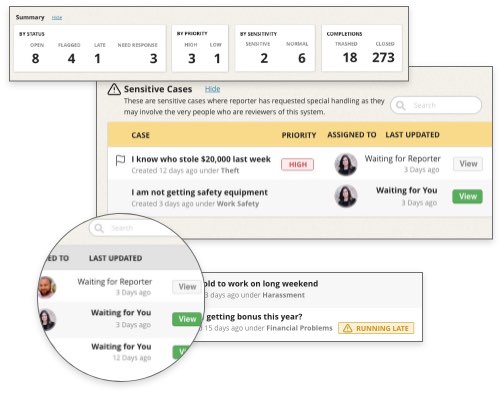 Comprehensive Categories
Organize your instance in categories and subcategories with relevant questions

Detailed category wise case statistics

Sensitive category handling via program manager
Bring your team
Invite multiple reviewers and program administrators

Reviewers auto assigned based on category

Dashboard with user specific information

Summary charts and statistics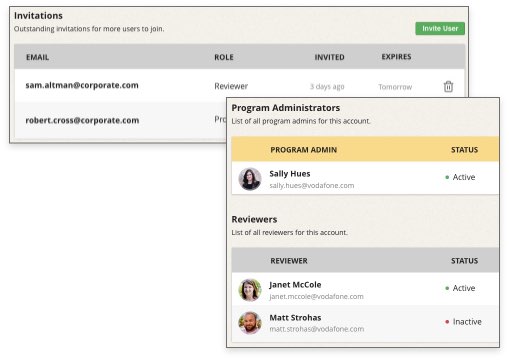 More Features
Anonymous and Extremely Secure
Completely Anonymous Interactions
Automated Change Tracking
Sensitive Complaint Management
Automated Case Assignments
Trusted by top companies of the world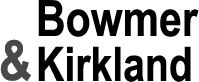 Kickass business all over the world choose Your Safe Hub
Prevent workplace bullying and harassment
Implementing YourSafeHub is the right step towards a secure organization. Thank you for taking this bold step.
Sign Up Now!